HUBUNGAN VOLUME PLASENTA DENGAN BERAT BADAN BAYI BARU LAHIR
atik pamungkas

stikes Estu Utomo

Hupitoyo Hupitoyo

Prodi Teknologi Bank Darah/Poltekkes Kemenkes Malang

Reni Wahyu Triningsih

Prodi Kebidanan/Poltekkes Kemenkes Malang

Rismawati Rismawati

Prodi Sarjana Kebidanan dan Pendidikan Profesi Bidan STIKES Estu Utomo
Abstract
Growth and development of fetus reflects prosperous of fetus which will affect the life of fetus after birth. Growth and development of the fetus during pregnancy is highly dependent on placental transfer which transfer of placental nutrient is affected by the surface area and thickness of the vili which it is contituent of placenta. This study aim to identify the Relation Between Placental volume and Newborn Weight by using a correlational analytic design. Sample in this research counted 33 respondent which taken with Purposive sampling.. Statistic test using pearson product moment with ? = 0,05, dk= n-2 obtained rcount 0,702 and r table 0,344  so rcount > r table  that can be concluded H0 research denied and H1 research accepted, it is mean  that there is Relation Between Placental volume and Newborn Weight. Because of this research we expect that there is increase in promotion of health to pregnant women so they will save health and keep nutrition during pregnancy.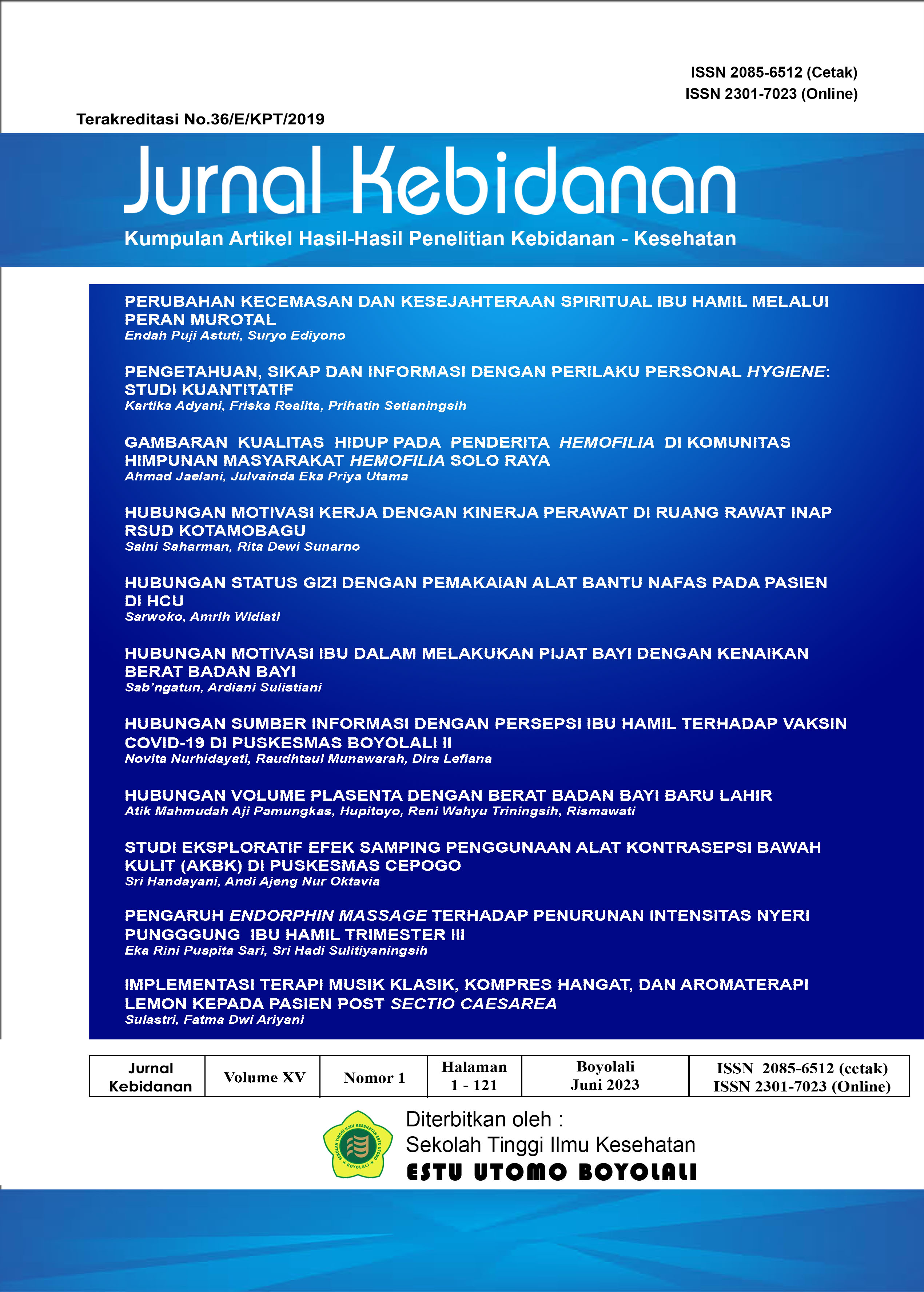 How to Cite
pamungkas, atik, Hupitoyo, H., Triningsih, R. W., & Rismawati, R. (2023). HUBUNGAN VOLUME PLASENTA DENGAN BERAT BADAN BAYI BARU LAHIR. Jurnal Kebidanan, 15(01), 77-86. https://doi.org/10.35872/jurkeb.v15i01.600
Copyright (c) 2023 atik pamungkas, Hupitoyo Hupitoyo, Reni Wahyu Triningsih, Rismawati Rismawati
This work is licensed under a Creative Commons Attribution 4.0 International License.